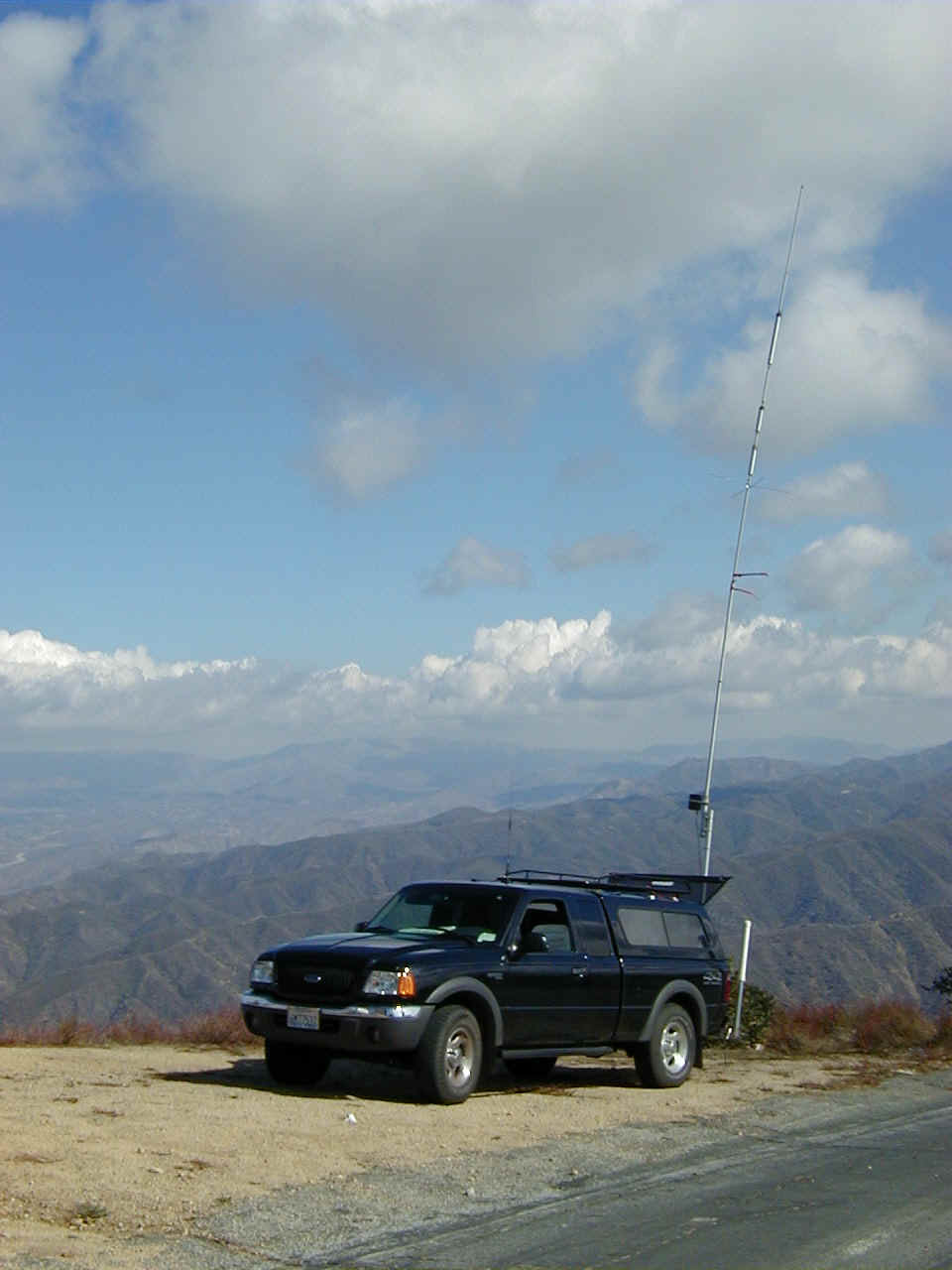 The view toward Europe from W4EF/p parked just north of LACOFD Fire Camp 9 in the Angeles
National Forest (3900' ASL).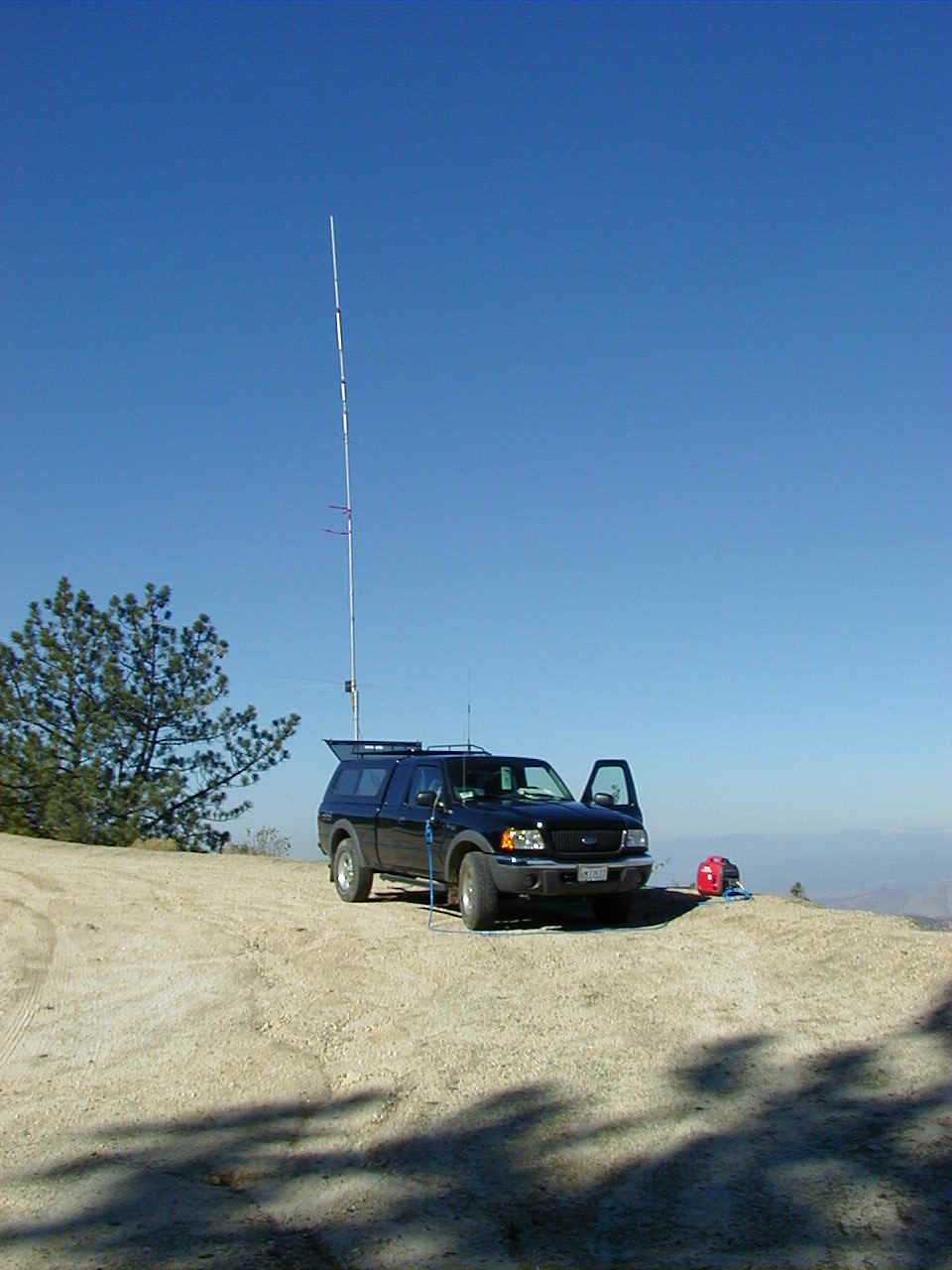 W4EF/p parked along the Mt. Gleason Road in the Angeles National Forest at ~5500' ASL for
the 2004 CQ WW SSB Contest (note the Honda EU2000i portable generator sitting on the
ground next to the truck).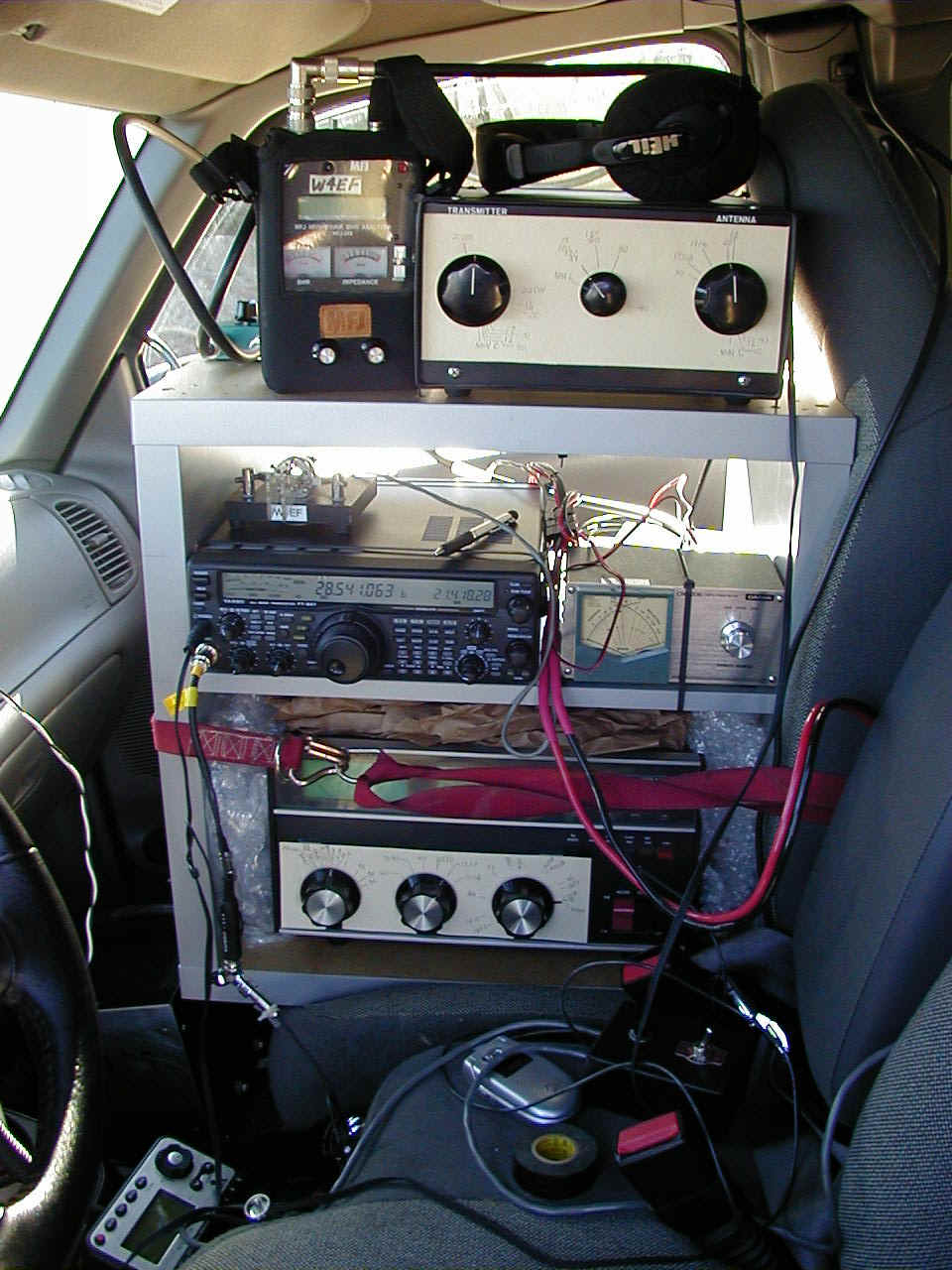 This is an old TV cart from Ikea that I turned into a operating desk for the truck. The red ratcheting load
strap holds it to the passenger seat so that it doesn't flop around while I am driving. The power supply for
the amp sits on the floor underneath. The radios and accessories (tuner and wattmeter) are strapped in place
with cable tie wraps (again to keep things from sliding around). The amp is surrounded on three sides with
bubble wrap and packing paper with the back and bottom of the amp chassis left open for cooling air. EMI
from the Honda generator was a problem. I was able to knock it down from about s9 to about s5 by
moving the extension cord for the amplifier around and putting choke loops into it, so I suspect a good
common mode choke placed right at the generator will be very effective (there is no detecable EMI when
the generator is running but not connected to an extension cord).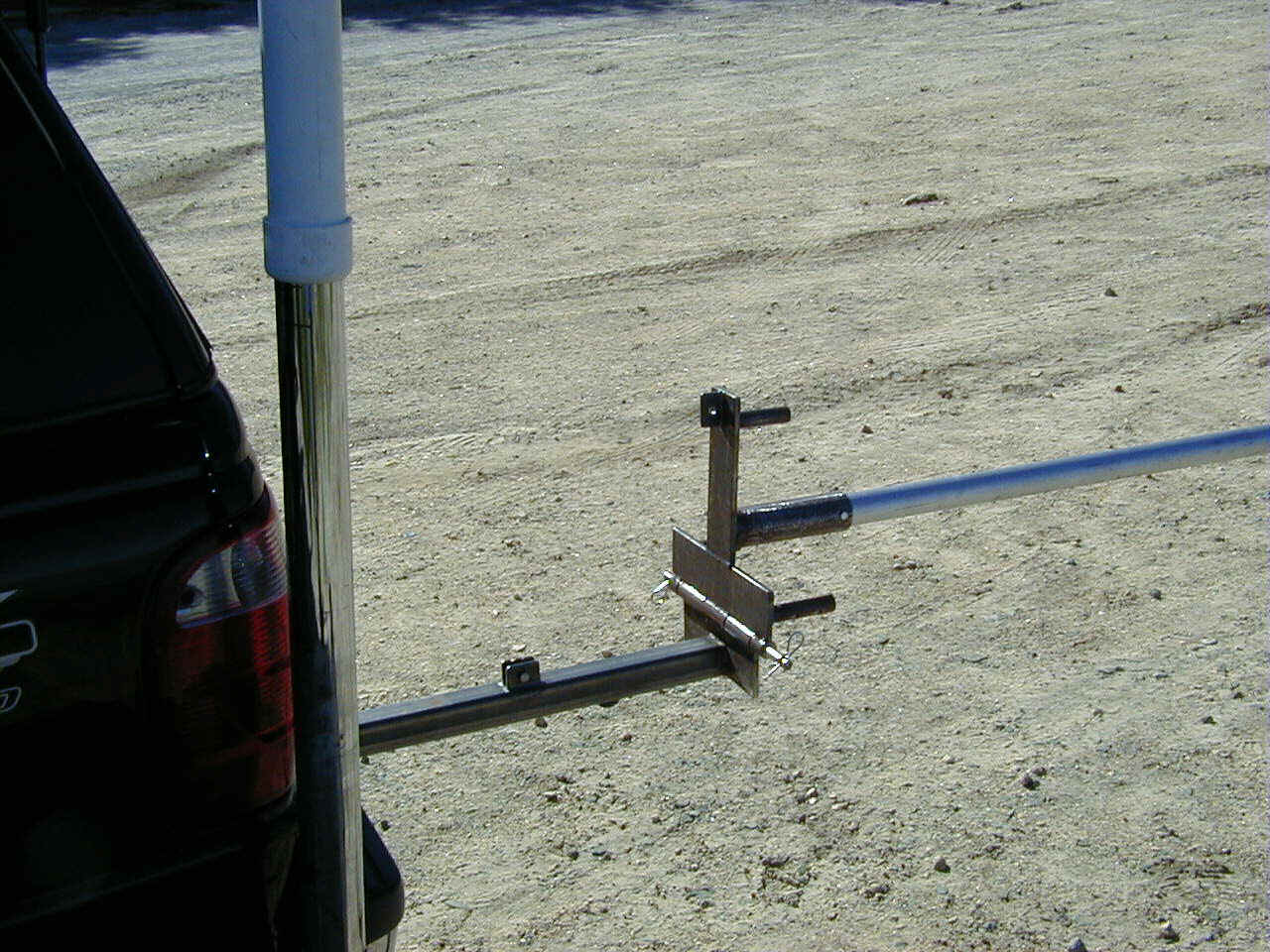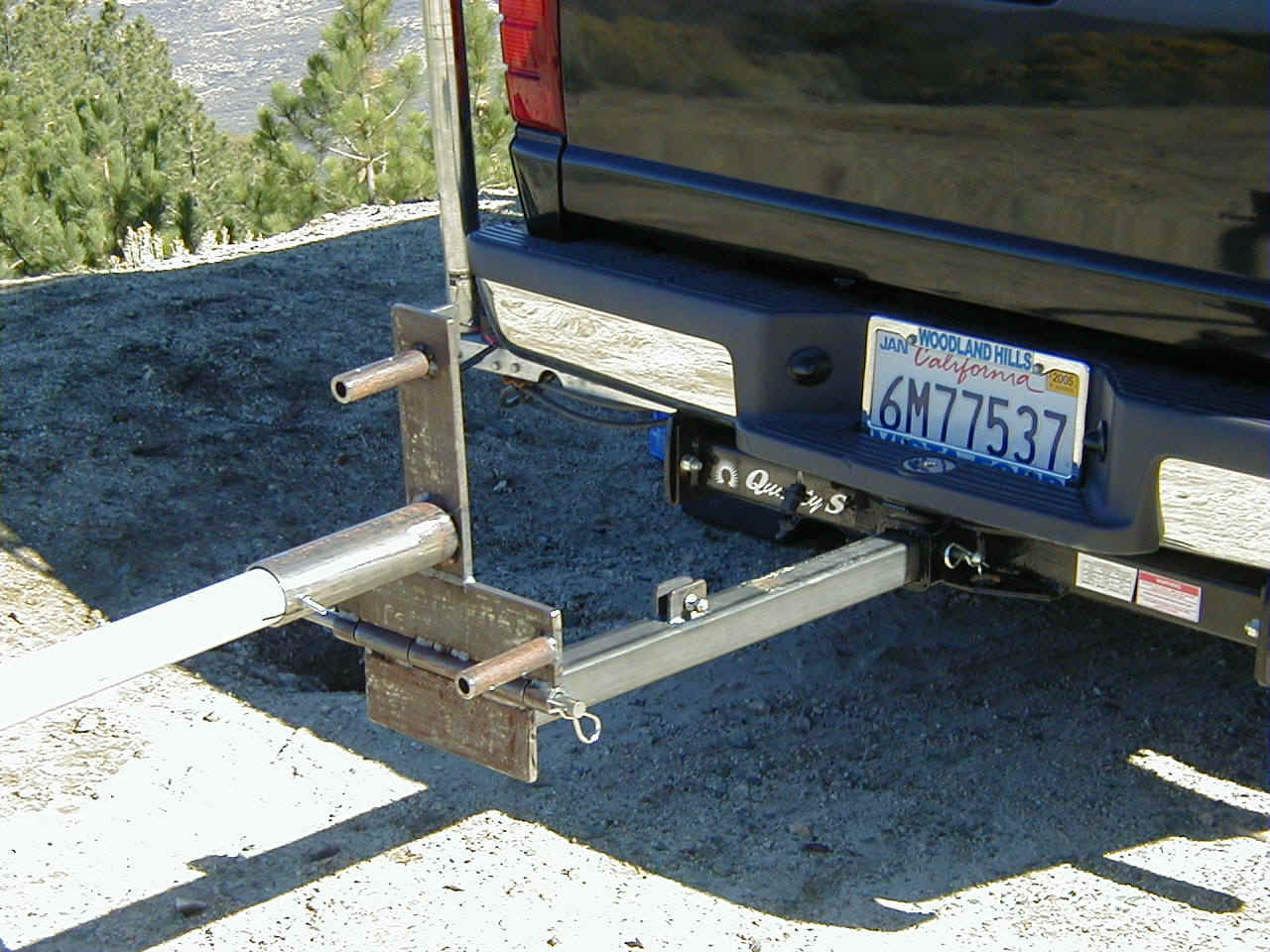 This is a "quick deploy" tilt up base designed by Mary Woll, N6VI. The base plugs into a standard 2" square frame hitch
receptacle and is pinned into place with a standard hitch pin. The base accepts Rohn 25 sections or a 2" O.D. mast. This scheme
allows me to deploy the R7000 vertical shown in the pictures above very quicky. I keep the mast and base section of the R7000 in the bed of the truck and the long vertical section with all the traps lashed to the roof rack with bungy cords. From the time I set
the parking brake on the truck, it takes about 10 minutes to have the antenna up and on-the-air.